'Mini is Tremendous - Martín Berasategui.'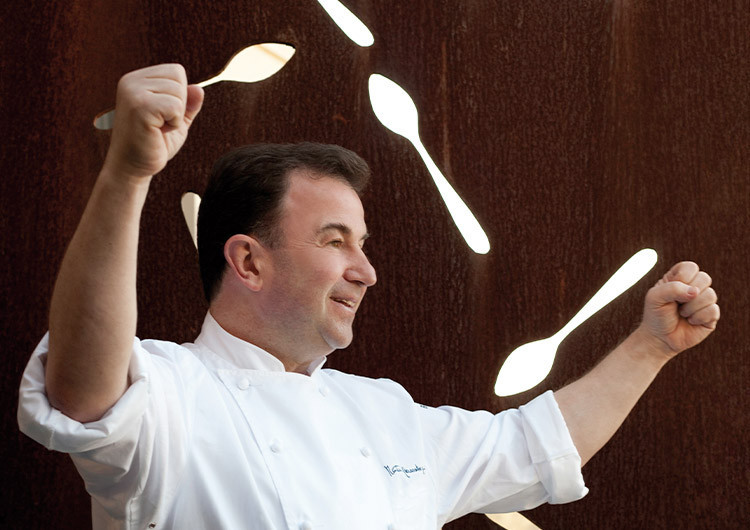 'Mini is Tremendous - Martín Berasategui'
This is what Martín Berasategui says about Xavi Donnay's new book, Mini
____
The work of my great friend Xavi Donnay is built with tradition and memory, but his specialties are also dressed in the fashion of the East, Central Europe or whichever latitude that he proposes, without ever losing the common thread that binds him to the course of his career. High quality patisserie, chocolaterie or bonbonerie are unique, unmistakable and inimitable, and thanks to him, we are able to touch the sky of sweet haute cuisine.
With my eyes closed, I identify his particularities and I am infected by his energy and his desire to do things very well, without any mistakes. He is a genius. I have just turned sixty-three and I still have that smile and that desire to please my collaborators and my customers, which is the key to my life: to surround myself with the best, both at home and in my kitchens all over the world. I continue to cook and I have the same enthusiasm I had when I was young to improve what I did yesterday, watching students like Xavi Donnay grow personally and professionally, a 'tremendous pastry chef' who has the delicacy of the chosen ones. When he gets a preparation into his head, he repeats the process a thousand times until he reaches the desired goal.
Here, he offers us a journey through his professional career, and particularly through the specialties of the dessert station of my restaurant Lasarte in Barcelona. Finding the need to offer an assortment of varied 'petits fours' or 'snacks' for a first class restaurant was a challenge that he has overturned in this book, in which he shares his work system and a great variety of dream elaborations. With the affection and mentality that define his work methods, he has reassembled many classics of sweet cuisine such as bonbons, macarons or confectionery products, concentrating many classics such as Saint Honoré, millefeuille or black forest in pieces of no more than three centimeters in diameter, or surprising with orange, madeleine or corn trompe l'oeil and displaying an assortment of sablés, pâte à choux and sponge cakes with his own style and contemporaneity. This book contains more than sixty original creations that review a titanic work, which is completed with novelties that cover all typologies, also those of the public with special dietary needs. Be patient and grateful with this first volume and always receive his recipes with enthusiasm, savoring them with joy, spoon in hand.
Thank you Xavi for being such a good person and.... ¡mucho garrote!
Discover Mini